Capturing COVID-19 From Thin Air
By Madeeha Mohiuddin, C2ST Intern, DePaul University
The new Thermo Fisher Scientific AerosolSense air sampler has some promising potential for capturing pathogen particles and ultimately preventing and reducing the spread of COVID-19. Although there are several similar air samplers already on the market, this one in particular has been found to yield more promising outcomes. 
John Burke, who has been preparing his entire life for an event to occur such as the COVID-19 pandemic, was more than ready to tackle this problem of airborne transmission. Thanks to his masters in health care emergency management and his thesis on pandemic planning, Thermo Fisher (a company that makes laboratory equipment ) hired Burke right away.  This sampler is the size of a toaster oven that will allow him to test and detect airborne COVID-19 particles. The air sampler was designed to be easy to use. Air is absorbed into a collection pipe and travels to a replaceable cylindrical cartridge that contains a foam-like substance that traps viral particles. Burke has utilized this technology to test how efficient the sampler is in collecting particles and detecting viruses in a fire station hallway.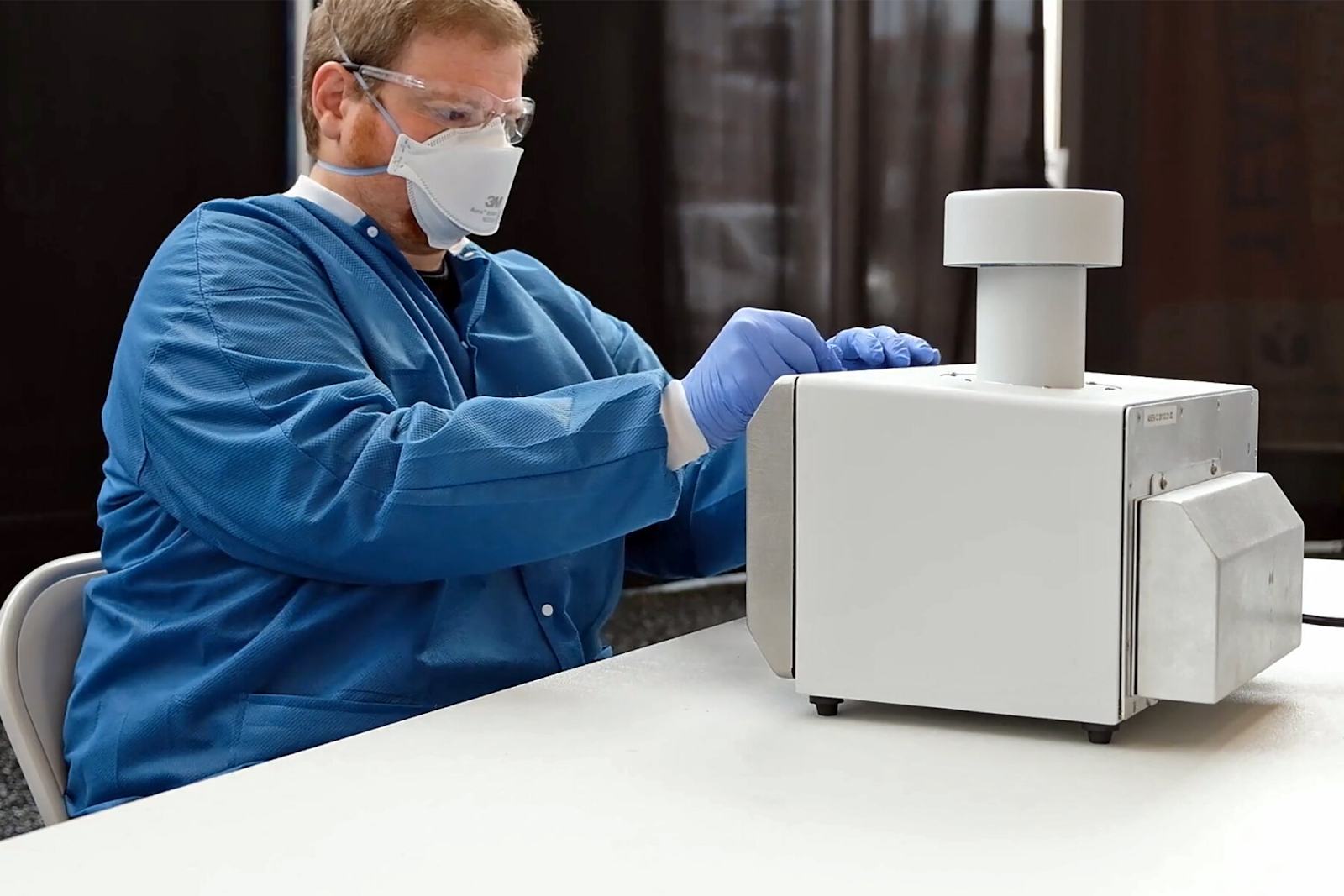 Burke conducted several trials and sent over the cartridges to a lab to discover the truth. Here, technicians utilized a polymerase chain reaction test; a test that detects the presence of a virus and fragments of a virus even after a person is no longer infected. After several collections were analyzed later in the month, the virus was indeed detected. It was ultimately determined that the traces of COVID-19 originated from an employee who had been working without a mask.
No technology is perfect, especially technology in early stages of development. For all its benefits, the Thermo Fisher Air Sampler has several drawbacks. Because airborne viruses are extremely tiny and difficult to detect, air samplers need to collect large portions of air to capture traces of the virus. Even then it may not capture the virus if it's present at low levels. Dr. Marr, an expert in airborne viruses at Virginia Tech, states, "You're looking for a needle in a haystack in a field of haystacks." However, with good data detection and analysis, experts can isolate the origin of a particular spread and prevent further infection. 
Thermo Fisher Scientific will focus on hospitals first so that administrators can prevent their hospitals from becoming epicenters for outbreaks. However, even with this technology, it is important to acknowledge that all other protocols, such as use of masks and social distancing, are still necessary as this device may not capture the virus if present at low levels. Overall, this device has some great promising effects in reducing the transmission of COVID-19! 
Waltham, M. (2021, March 24).
Thermo Fisher Scientific Launches In-Air SARS-CoV-2 Surveillance Solution
. ThermoFisher Scientific. https://thermofisher.mediaroom.com/2021-03-24-Thermo-Fisher-Scientific-Launches-In-Air-SARS-CoV-2-Surveillance-Solution