Conservation Scientist Francesca Casadio and Paintings Conservator Allison Langley will discuss the works of Pablo Picasso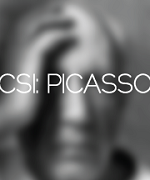 Francesca Casadio PhD., A.W. Mellon Conservation Scientist and Allison Langley, Paintings Conservator at The Art Institute of Chicago, will discuss the works of Pablo Picasso (1881-1973), one of the most important artists of the 20th century, at CSI: Picasso on October 10th at IIT.
To learn more about the famous artists whose works cover the walls and halls of the Art Institute of Chicago, conservation scientists don't simply pore over dusty tomes and speculate as to materials used and techniques employed; they peer through high-tech microscopes, use X-ray machines, and examine samples as small as tiny grains of salt to uncover long-held mysteries.
"It really lets us see the man behind the artist, the story, with the materials used…it's like a surgical time machine," said Francesca Casadio, PhD., A.W. Mellon Conservation Scientist at the Art Institute of Chicago. "This is what is fascinating, we know the artist so much better than by reading history books."
The Art Institute of Chicago's 17 Picasso paintings dated from 1901 to 1959 span the artist's career.  The talk will explore how the state-of-the-art means of scientific analysis and technical imaging now available can shed light on both the materials and methods used by the artist in creating his works of art. For example, Picasso used Ripolin, an industrial paint common at the turn of the Century, on some of his works, rather than oil paint.
Paintings discussed will include "The Old Guitarist, 1903/04" – a quintessential blue period painting, and "The Red Armchair" (1931) – an archetypal Ripolin painting. While "The Old Guitarist, 1903/04" represents a classic case of the artist building a new composition over previous ones, "The Red Armchair" represents an instance of the artist's innovative use of un-conventional painting materials.
Casadio and Langley will also discuss the different technologies they employ in their work, such as an X-Ray Fluorescence Spectrometer (XRF), which was originally developed for the exploration of Mars, which can detect most inorganic elements in the periodic table; Infrared Reflectography (IRR), a technique that allows researchers to 'look' through paint layers; and even work done on microscopic samples at the Advanced Photon Source at Argonne National Laboratory, which is the Western hemisphere's brightest source of X-ray beams–able to penetrate to nanometric resolution, to determine the origin of the paint used.