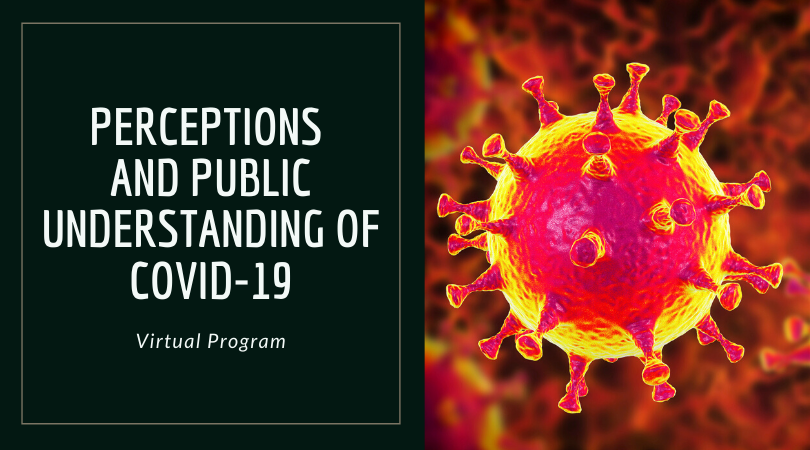 April 7, 2020
4:00 pm – 5:00 pm

Virtual - Tune into C2ST's Facebook Live

Program Series:
Health and Wellness
Coronavirus Disease 2019 (COVID-19) has brought the world to a standstill over the last months, weeks, and days. As fear and panic increase among members of the public, it is more important than ever that accurate information about this novel virus reaches the concerned public. To assist in this important endeavor to ensure accurate information from valid, qualified authorities on COVID-19 reaches the public, the Chicago Council on Science and Technology will host a series of free online lectures with Q&A segments. Hear from and ask questions of Chicago's esteemed researchers who are on the frontlines of COVID-19 research on topics ranging from vaccines to viral biology to social implications. As always, we are here to provide scientifically accurate information and make it accessible to all.  Read more…
Featured Event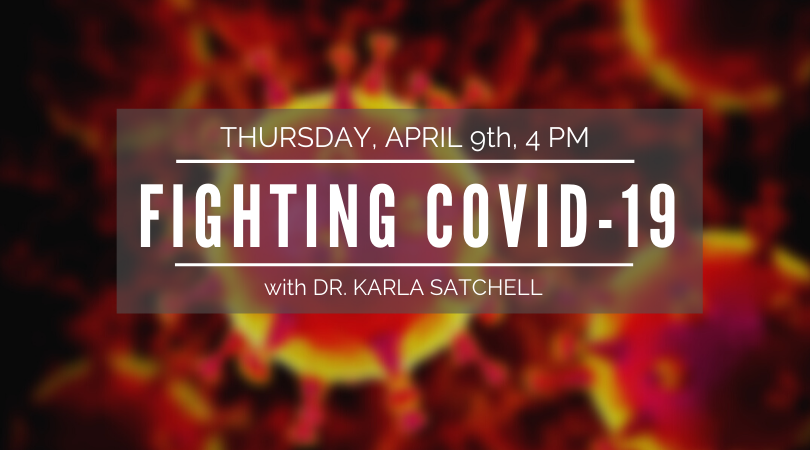 April 9, 2020
4:00 pm – 4:45 pm

Facebook Live

Program Series:
Health and Wellness
Dr. Karla Satchell has been a frequent name in the news as she leads a team of researchers to examine the atomic structure of Coronavirus Disease 19 (COVID-19), an integral step in devising a means for fighting COVID-19 as the virus continues to spread. Satchell leads the Center for Structural Genomics of Infectious Diseases, a consortium of nine labs at eight schools collaborating on the effort to better understand and devise a means for fighting the continued spread of COVID-19. The team is mapping out the proteins of the virus with the aim of finding a weak spot where medication can intervene and stop the virus from replicating in humans.
Join C2ST for a discussion with Dr. Karla Satchell on the integral work she and her fellow researchers are conducting to fight and prevent the spread of COVID-19.
Featured Event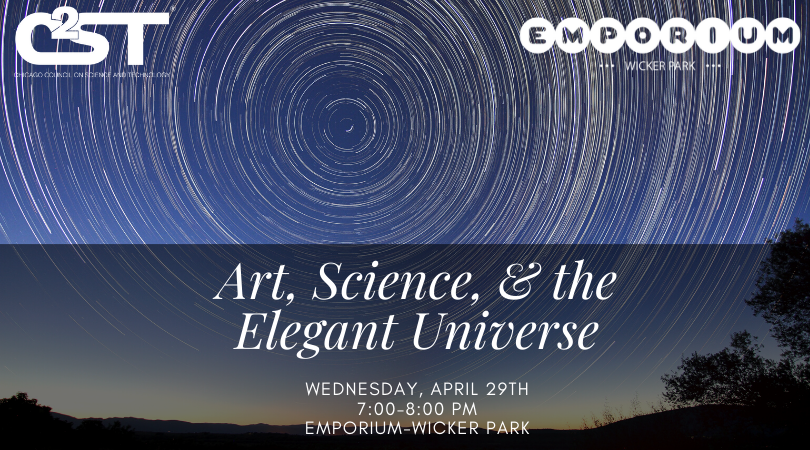 April 29, 2020
7:00 pm – 8:00 pm

Emporium - Wicker Park
1366 N Milwaukee Ave, Chicago, IL 60622, USA
Program Series:
Physical Science
"Scientists and artists both thrive on uncertainty and a sense of adventure." These two ideas have inspired Lindsay Olson during her residency at Fermilab. Working with Fermilab scientists, like Dr. Kirsty Duffy, she created a body of work about the Standard Model, neutrino research, and the CMS experiment at CERN. Read more…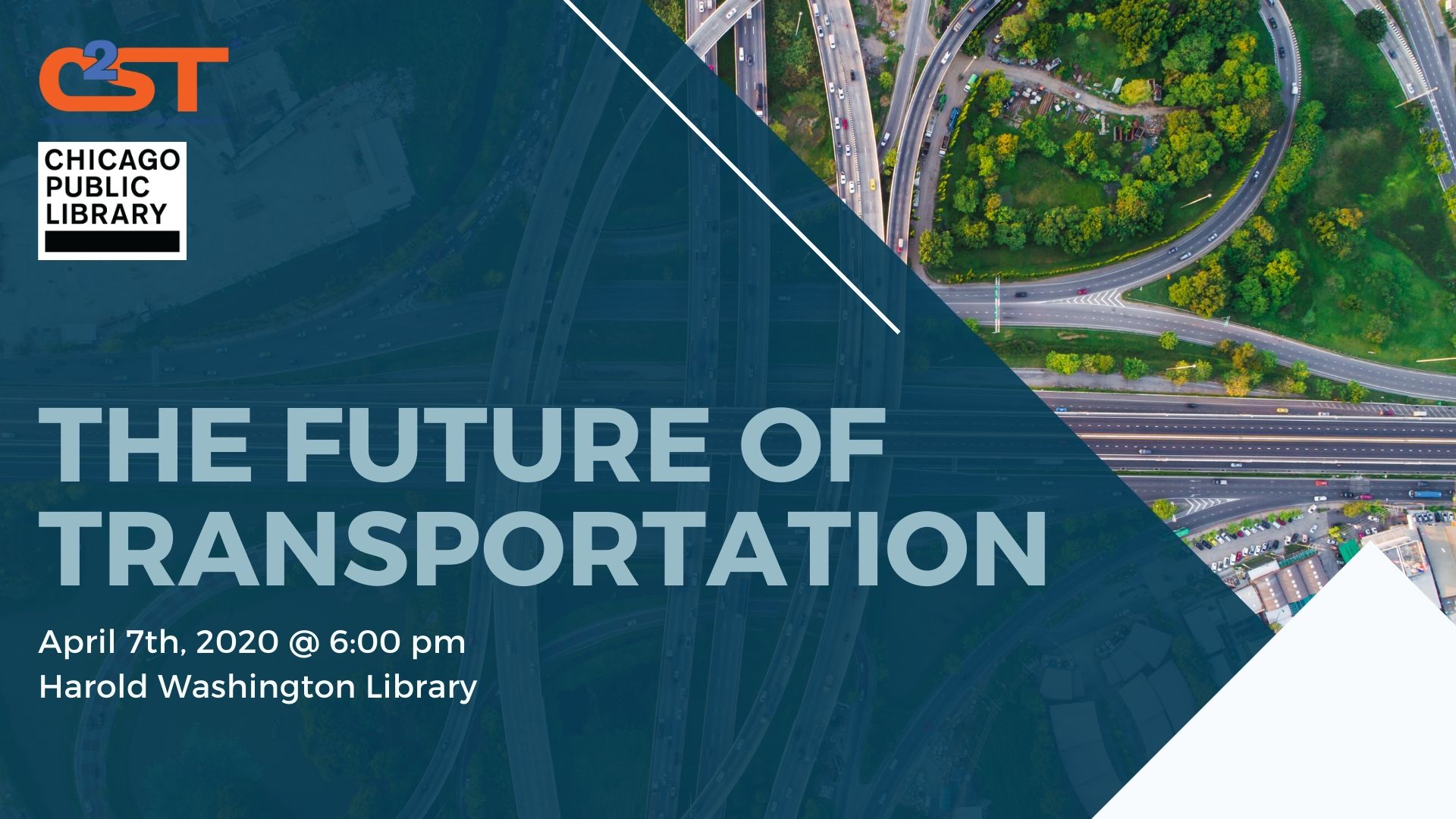 Join C2ST to learn how the Future of Transportation is being shaped by emerging technologies and sustainable solutions.
Imagining what transportation will look like in the future has been a fantastical part of popular culture. In recent years, we have seen technologies that were once limited to imagined worlds entering our everyday lives. Read more…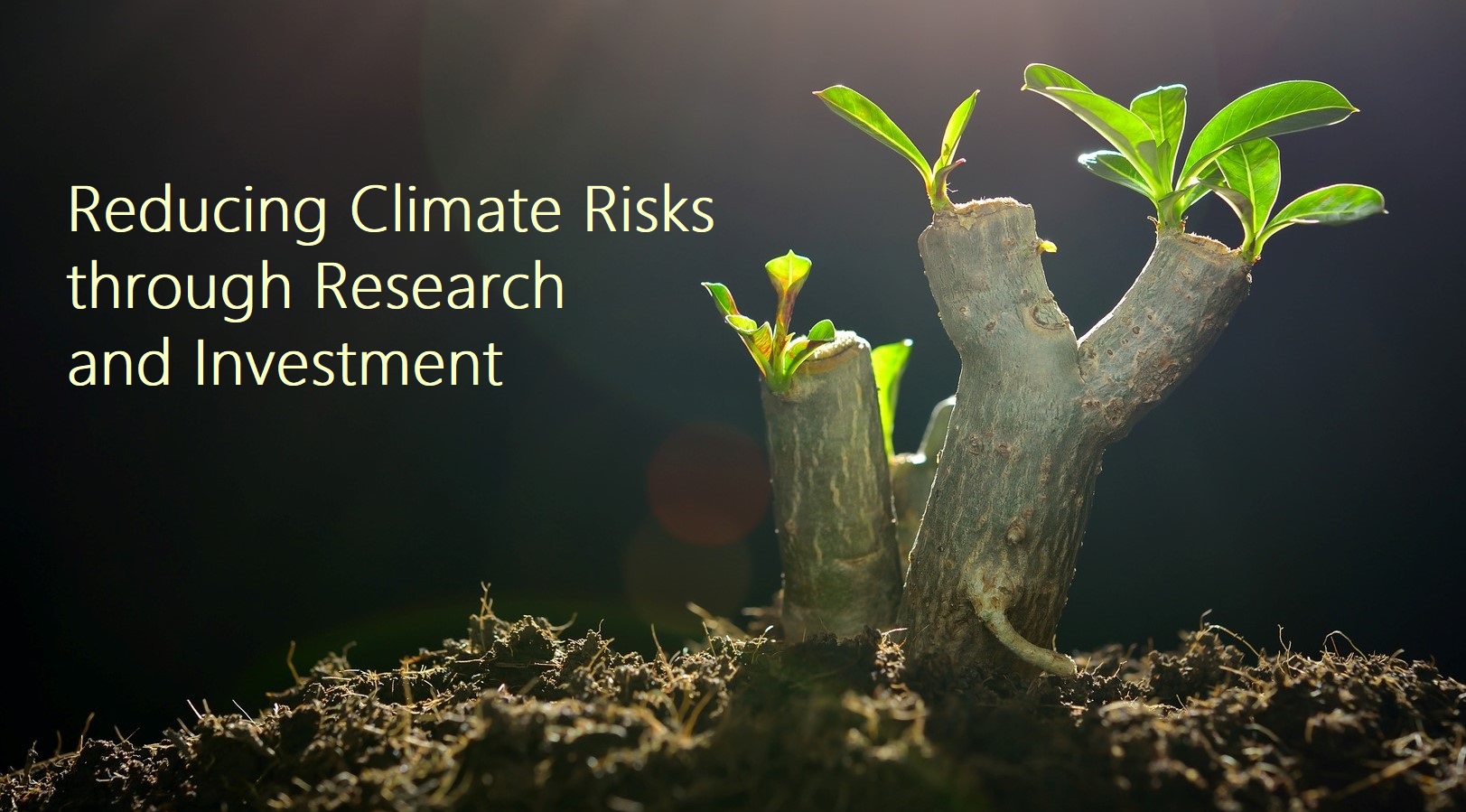 Climate change is increasingly recognized as one of the most serious challenges facing humanity in this century. Because climate change is largely driven by the use of carbon-emitting fossil fuels that are an integral part of the modern economy, solving the climate crisis will require rapid development and deployment of new energy sources and new methods of removing carbon from the atmosphere. Doing this will require major investments of risk capital. Furthermore, to be successful, any set of climate solutions must also be consistent with an economic transition that provides opportunities to workers and communities affected by the winding down of carbon-intensive industries and practices. The combined efforts of the academic and investment worlds will be critical to limiting the rise in Earth's temperature to a sustainable level.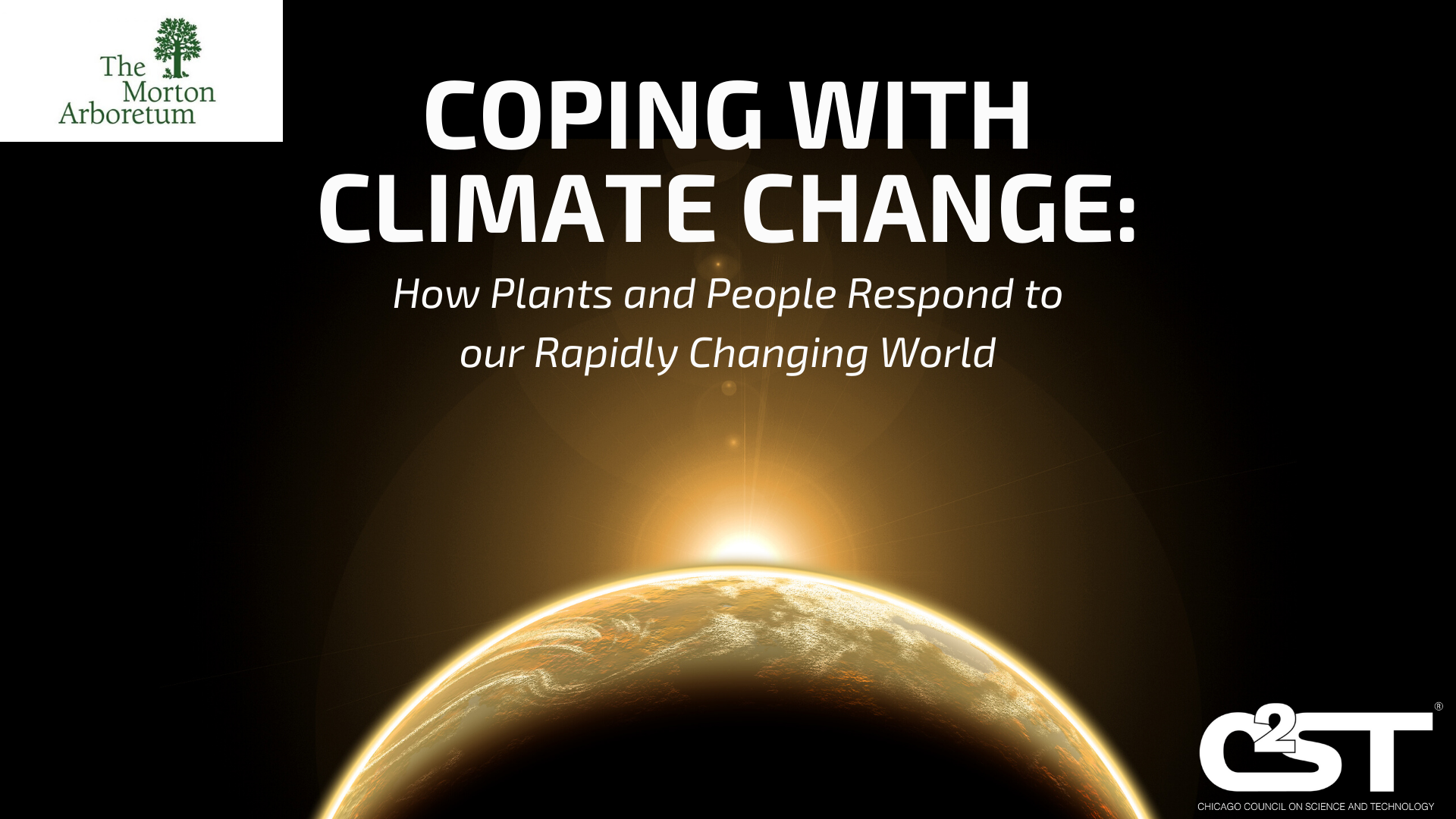 Can our forests cope with the impacts of climate change? Can human communities find hope and resilience to act and adapt? Grab a drink at the bar (one is included in the price of the program) and join us for an evening of science and inspiration with special guest Dr. Lauren Oakes, conservation scientist and author of In Search of the Canary Tree. Read more…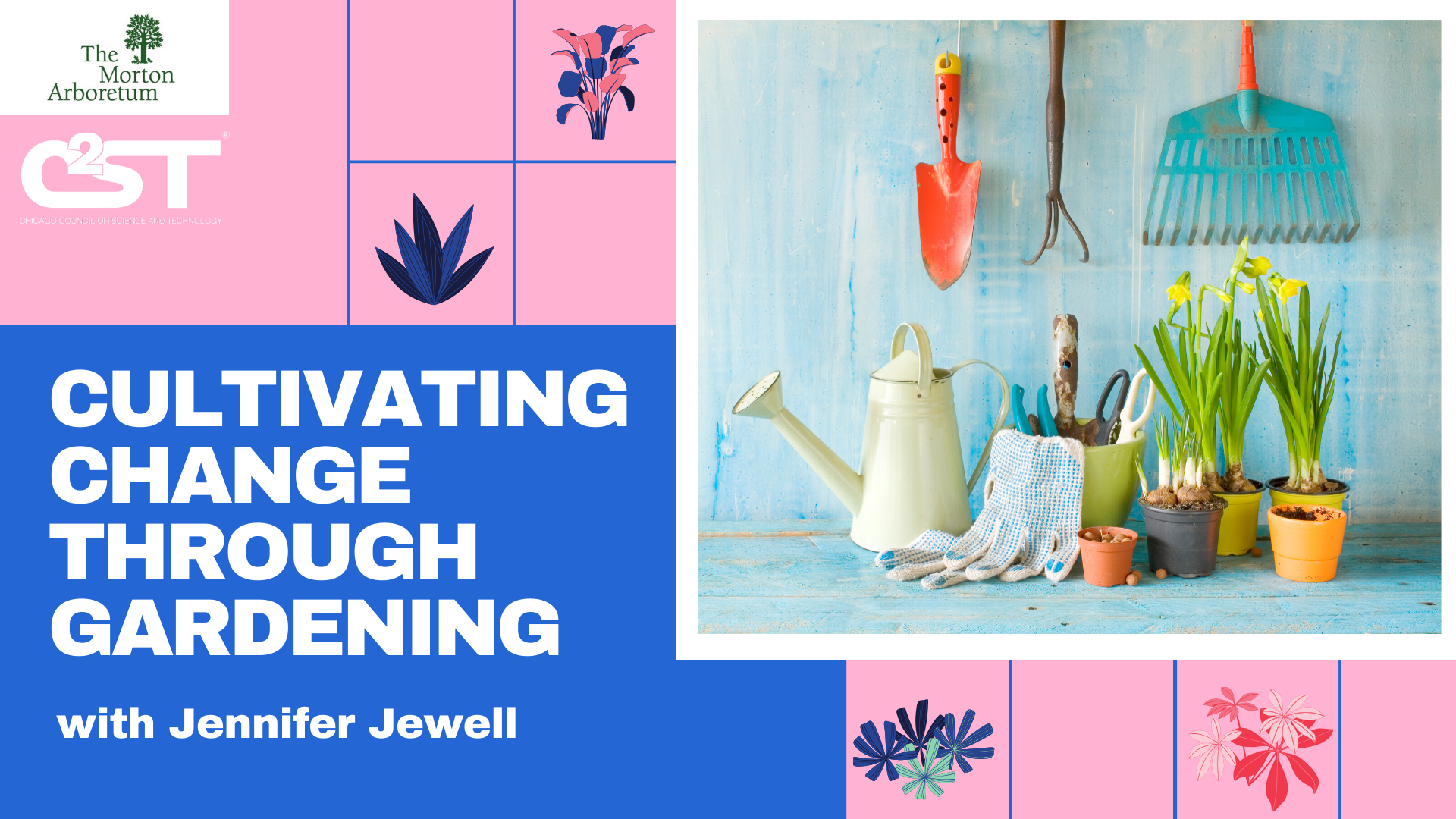 Join us for a conversation with Jennifer Jewell, creator and host of the award-winning public radio show and podcast, Cultivating Place, about women who are creating change in the world through careers in horticulture. Jennifer and an impressive panel of horticulture experts will explore big questions about how growing plants can shape and transform individuals, communities, and the environment. Read more…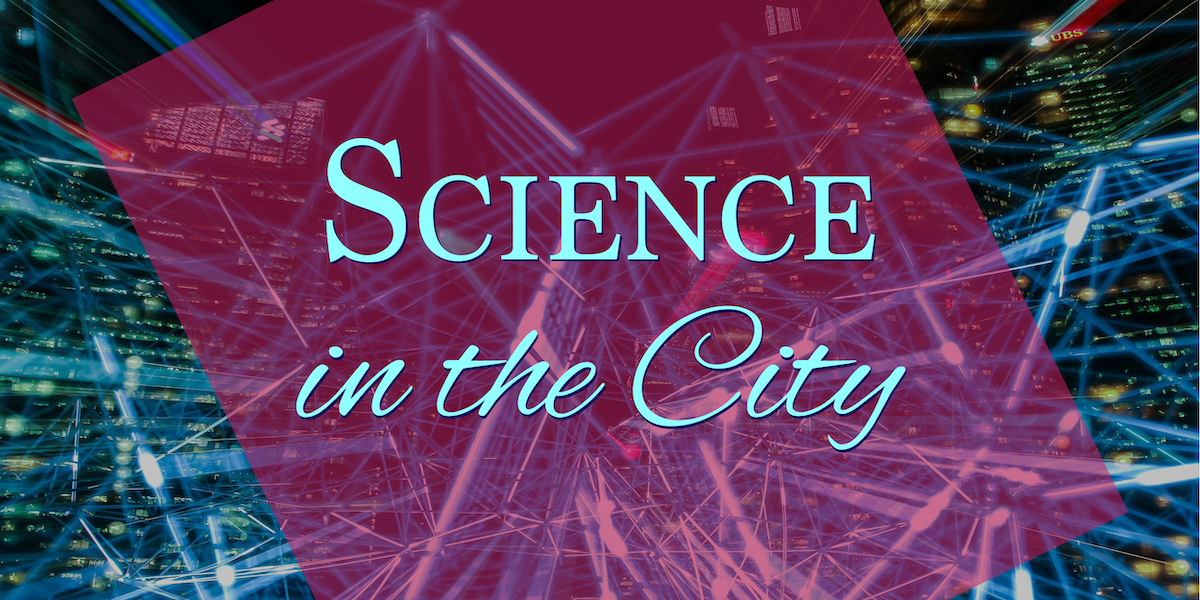 On Thursday, May 21st, the Chicago Council on Science and Technology (C2ST) will hold our largest fundraising event of 2020, the "Science in the City" gala. 
We hope you'll join us as we celebrate public STEM outreach with community members, academic and industry leaders, educators, and young professionals from across Chicagoland. This year we will be facilitating introductions between young and established professionals in different STEM fields, so you can be sure to meet someone new and learn a new perspective! Additionally, all guests can take a tour of the Simpson-Querrey Institute and win unique and priceless experiences through our auction items (like a private tour of the Gemstone Gallery and archives at the Field Museum!).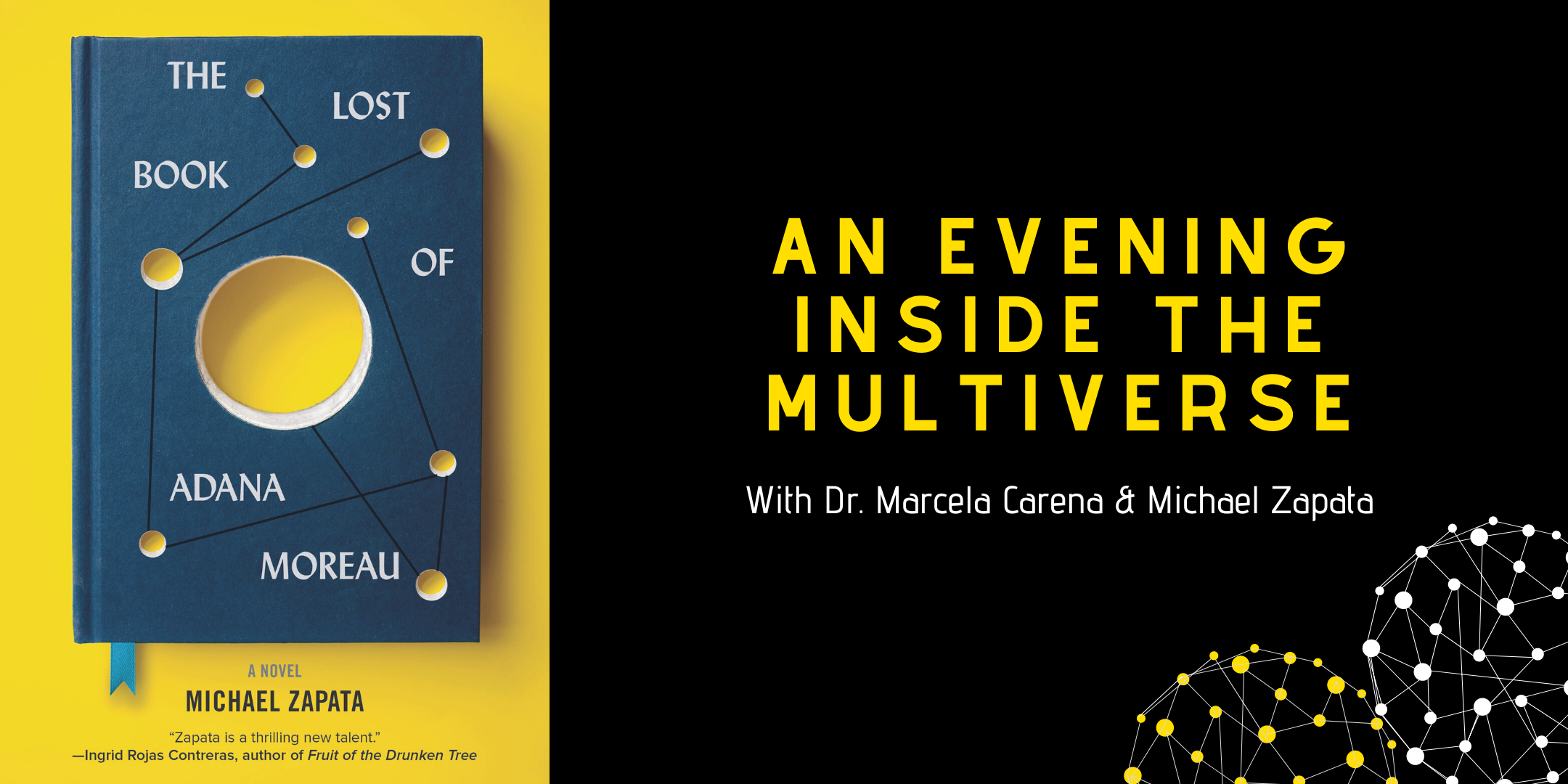 From the eighth-century The Book of the Thousand Nights and a Night to the twentieth-century stories of Jorge Luis Borges, literature has shown us the possibility of other selves, worlds, and even universes. The quantum revolution and recent discoveries in physics and astronomy point to the jaw-dropping idea that our universe may be only one of many universes constituting an infinitely large multiverse. In this talk, Dr. Marcela Carena and Michael Zapata will discuss various theories about parallel universes and how they impact the ways in which we think about science, literature, and our own lives. It's at once humbling and stirring to think that our own expansive and often hidden reality might be stranger than fiction.
C2ST Supporters

Acorn Foundation

Alan Schriesheim & Kay Torshen

John A. Cable Foundation

Arch Investors Ltd