The Origins of the Genus Homo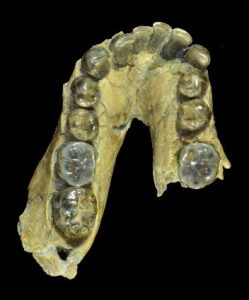 The Leakey Foundation, Chicago Council on Science and Technology and Chicago Public Library present
The Origins of the Genus Homo
When did our ancestors look the way we expect the earliest members of our genus to have looked? When did they behave in the way we expect the earliest members of our genus to have behaved? The search for what defines the genus Homo has spanned decades and is still debated among scientists today. In this talk, paleoanthropologist Dr. Bernard Wood will survey the history of attempts to find the earliest members of the genus Homo, including very recent and controversial additions. He will review the complications that arise from defining the genus and discuss how half-a-century of paleontological research has taught him what to look for within the hominin fossil record when searching for the origins of our genus Homo.
Bernard Wood, Ph.D. is University Professor of Human Origins and the director of the Center for the Advanced Study of Human Paleobiology at George Washington University. His research interests are taxonomy, phylogeny reconstruction and comparative morphology. He is the author or co-author of 12 books that range from a 1991 monograph on the hominid cranial remains from Koobi Fora to the non-technical Human Evolution, A Very Short Introduction. He is the author of over 220 scientific articles and book chapters as well as numerous commentaries in Nature and other journals. He is an honorary fellow of the Royal College of Surgeons of England.
DETAILS: Wednesday, May 23, book signing at 6:00 p.m., program from 6:30 p.m. to 8:00 p.m., Chicago Public Library, Harold Washington Library Center, Cindy Pritzker Auditorium (lower level), 400 South State Street, Chicago, IL 60605.
This program is FREE to attend, and seating will be first come, first served. The Seminary Co-op Bookstores will be at this event, selling copies of Bernard Wood's Human Evolution: A Very Short Introduction.! Can't make it live? This program will be recorded and livestreamed to C2ST's Facebook page, and will be available at a later date in its entirety on our YouTube channel, C2ST TV. Questions? Contact Andrea Poet, C2ST director of programs and PR, at apoet@c2st.org or 312-567-5795.
ABOUT C2ST: Chicago Council on Science and Technology is a not-for-profit organization that brings scientists out of the lab, directly to you. We work with national laboratories, leading academic institutions and museums to educate the public on issues of critical scientific importance. In an age when barely one in four voting adults meet a basic level of scientific literacy, we aim to reignite an excitement and passion for science and technology, and remind Chicagoans of the quality and quantity of R&D that takes place in their backyard.
The Leakey Foundation is a nonprofit organization that funds human origins research and shares discoveries. We award nearly one million dollars in research grants annually, and we share the results of this research through our nationwide program of public lectures, free educational outreach to schools, and through our website and our Origin Stories podcast. The Leakey Foundation's mission is to increase scientific knowledge, education, and public understanding of human origins, evolution, behavior, and survival.