By C2ST Staff
The last few months have been challenging for Chicagoans, Americans, and citizens of the world. Now would usually be the time for many of us to head out to the beach, meet with friends, and enjoy some well earned R&R. Summer is a great time for outdoor science events, like our Urban Nature Walk. While we may not get the summer we planned for, that doesn't mean we can't figure out new ways to have fun in the sun.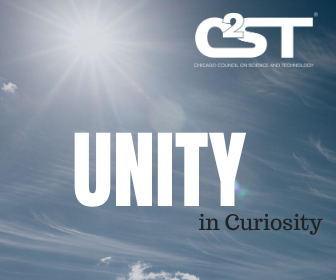 C2ST is proud to present "Unity in Curiosity," our Summer 2020 initiative. By contributing to and supporting our previous initiative, "Science from the Frontlines," donors and attendees provided us with a platform to organize and host a slew of new virtual programs to engage and educate Chicago residents. This summer, we'd like to make Unity in Curiosity an even bigger success.
We at C2ST believe that we have a responsibility to bring people together in spaces that foster learning, creativity, and togetherness. Now more than ever, it is incumbent on us to provide and nurture those spaces. And if we can have a little fun in the sun (or the shade) while we do it, all the better!
In that spirit, we're reaching out to our community for contributions to C2ST and our mission. It is only through your support that we are able to organize our events and spread our message. We're in this together, so please consider giving a modest donation of 5, 10, or 25 dollars so that we can make the best of the summer. Your contribution will directly support science and technology learning for Chicago residents and beyond.