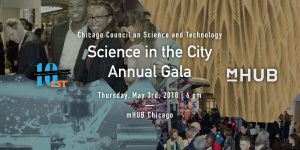 Join Chicago Council on Science and Technology for Science in the City
CHICAGO, Illinois (April 20, 2018)—C2ST honors science leaders.
C2ST is proud to award two outstanding individuals for their contributions to science in the city, with our "Advancing the Public Understanding of Science & Technology" award. C2ST created this award in 2012 to honor individuals who share in the passion and mission of the organization—to increase the awareness of the great R&D taking place in our region.
We will be honoring Ann Lurie, president of the Ann and Robert H. Lurie Foundation, with a lifetime achievement award. A distinguished philanthropist, Ann is committed to many causes, including health care, education, social services and the arts. Lurie is founder and president of Lurie Holdings, Inc. and president and treasurer of the Ann and Robert H. Lurie Foundation. Guided by a giving template that she and her late husband Bob developed, Ann supports charitable endeavors in Chicago and throughout the world that emphasize medical treatment, research, education and prevention. Based on Bob's engineering background, Ann's investments as well as her philanthropy have focused on biotechnology and its applications to health care.
Emile Cambry, Jr., a business professor, filmmaker, and social entrepreneur, will receive our young professional award. Cambry's largest project to date was founding the technology and entrepreneurship incubator, BLUE1647. Cambry, Jr. is the president of the Chicago International Social Change Festival, and has been named to Ebony Magazine's Power 100, The Root Power 100, Chicago Crain's Tech 50, a Chicago Tribune Top 100 Innovator, Techweek 100, a Verizon Wireless 40 Under 40 Game Changer, and been awarded the Community Service Award by the South by Southwest Conference.
Science in the City is an evening dedicated to celebrating science, and raising money to bring science literacy to more Chicagoans. Join us in celebrating 10 years of Science in the City at mHUB, enjoy drinks and hors-d'oeuvres, tour mHUB's innovative manufacturing facility, and mingle with Chicago's science community. All funds raised will help C2ST continue to provide free and low-cost science events throughout the city—your support is critical to our mission.
About C2ST: It is estimated that only about one in four American adults meets a minimal standard of civic scientific literacy. This level of scientific literacy is insufficient to sustain a healthy democratic society or to assure rational consideration of major scientific issues. Chicago Council on Science and Technology was founded in 2006, and brings together Chicago's scientific leaders—at academic institutions, corporations, museums, National laboratories and in government—to provide a forum for the discussion of current issues of scientific interest.
For more information, a full list of sponsors and to purchase tickets, visit https://www.c2st.org/event/2018/05/science-city-annual-gala-2018-0