print("Computer Science Education Week")
By Laura Tran, C2ST Intern, Rush University
December 6th to 12th was Computer Science Education Week (CSEdWeek¹). The idea behind the week-long celebration is to inspire K-12 students to learn computer science, to raise awareness for computer science education, and to highlight the contributions of the computer science field. This event falls during the week of Admiral Grace Murray Hopper's² (aka "the mother of computer science") birthday (December 9th, 1906).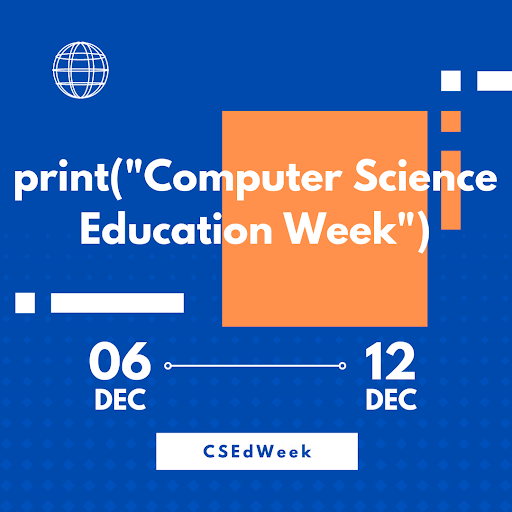 Hopper is known for the creation of the compiler, which translates high-level programming languages like Python or Java to a language that computers could understand (called executable machine code). She is also credited with popularizing the term "bug"³ (an error in a program) after her team removed a moth from a computer. Now that's what I call debugging!
The 21st century runs on computer code but you don't have to be a computer programmer to benefit from learning the basics of computer programming. CSEdWeek's largest education campaign "Hour of Code"⁴ introduces students of all ages to the basics of computer science and has reached over 1 billion "hours served" since it began in 2013. One of the ways to increase the accessibility of computer science education is to create sessions that are "plugged" (virtually on screen-readers) or "unplugged" (pen and paper, or physical demonstrations). 
Aside from Hour of Code, numerous coding challenges and competitions, such as Google's Code Jam⁵, are hosted to entice young coders to put their skills to the test. With computer science driving our increasingly digital world, these programs will empower students to explore new things, solve complex and challenging problems, and be a part of the driving force of change in their communities.
The documentary film "CODEGIRL"⁶ highlights some of the real-world applications of computer science, particularly for young women. While computer science is a male-dominated field, this documentary draws attention to the gender gap as well as highlights the contributions of women who code. For instance, a team of five teenage girls from Stefanesti, Moldova developed an app that allows its users to track the quality of water in local wells. Another group of girls in Winchester, Massachusetts created the SafeGuard Driving app, after losing classmates to drunk driving. The app takes users through a series of questions to test balance, reaction time, and attention to determine if they are capable of driving safely. It goes to show that coding isn't just for men. People of all ages and genders can code to make a difference around them! Having people from all backgrounds and experiences included in computer science improves algorithms⁷ and the way computers function overall. 
Thanks to Grace Hopper and other computer science pioneers, computer coding has come a long way and continues to impact our lives in both small and big ways. With technological advances on the rise, computer science will continue to grow and evolve to answer the world's problems. We get a small taste of computer science's potential in the hands of young and innovative thinkers through CODEGIRL and through numerous coding challenges and competitions. This is possible, in part, due to increased awareness and tools (both virtual and physical methods) to learn in this field. Computer Science Education Week aims to promote computer science learning for students of all ages regardless of gender, advocating for equity, and celebrating the past and present contributions to the field. The scope of computer science is endless, so go out there and code away!
References: