Interview: The Case for Including Every(Body)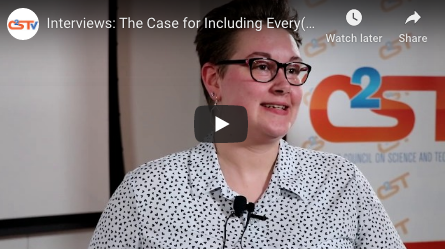 To watch the full program click here.
To watch the Q&A session click here.
Inclusive practices and promoting diversity have been major challenges in STEM fields. However, people with disabilities are often left out of this important conversation. Complicating this issue are misunderstandings of what it means to be disabled and what barriers limit disabled access in STEM.
What strategies can be used to create a smoother transition for people with disabilities as they complete their education and transition into the workforce? What resources can people with disabilities use to help advocate for themselves? To help answer these questions, learn about the experiences of people with disabilities in STEM, and hear about current research join us for a panel discussion with advocates Dr. Maureen Dunne, Helen Rottier, and Dr. Susan Magasi.
With the aim of a more diverse future workforce, C2ST's Inclusiveness in STEM series focuses on the importance of allies, self-esteem, recognition, and representation to help minorities overcome barriers that may prevent them from entering STEM careers or achieving longer and greater success in these fields. These discussions will advocate for a more inclusive and diverse workforce and will highlight the importance of perception as it relates to achievement in STEM fields.