How The Avian Flu Is Affecting Your Turkey This Thanksgiving
By Laura Tran, C2ST Intern, Rush University
Look! Up in the sky! It's a bird, it's a plane, it's…bird flu!
The last major avian flu (bird flu) outbreak in the United States occurred in 2014 and lasted until 2016. It circulated among wild birds during their migration and then spread to domestic poultry, which affected more than 50 million birds (mainly chickens and turkeys). It cost billions of dollars to cull infected poultry populations in order to control the spread of the virus.
While the worst of bird flu seemed to settle down, it never really went away.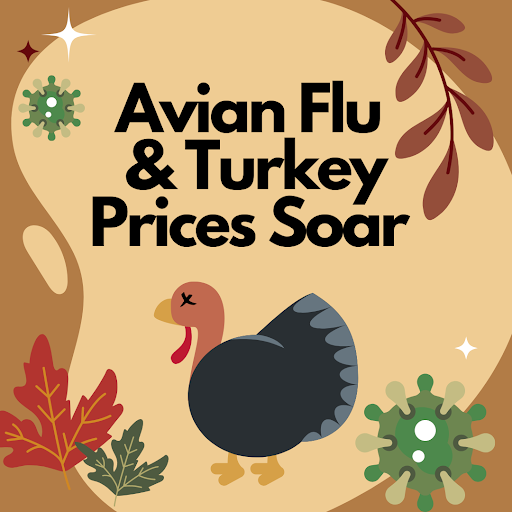 Since the beginning of 2022, there has been a resurgence of bird flu in the United States and Europe. The current strain that is wreaking havoc on poultry flocks is a highly pathogenic avian influenza (HPAI) strain called H5N1. To date, it rivals the previous bird flu outbreak with over 50 million affected poultry (also mostly chickens and turkeys) across 46 states. This is also the largest outbreak observed in Europe so far with nearly 50 million birds culled.
The current strain of bird flu is different from its predecessor. While researchers have not definitively identified what makes this virus more widespread than previous strains, they have a few theories. It is possible that mutations allow the virus to replicate and spread more efficiently or even allow the virus to infect a broader range of bird species.
Either way, this strain of bird flu isn't flying the coop any time soon. 
Avian flu typically follows a seasonal cycle in which infections are detected during the colder months and during fall and spring migration. Infections tend to drop off with the summer heat, but this strain of bird flu continues to affect flocks across the nation.
By July 2022, roughly 50 million birds were culled in the United States due to bird flu. 
To add insult to injury, the consequences of bird flu are compounded by inflation and supply chain challenges. Farmers are paying more for feed which increased by 10% from August 2021 to August 2022, fertilizer, and labor. The effects of COVID also negatively impacted supply chain issues by costing farmers more money in labor and using meat processing plants.
While turkey prices tend to vary, they are currently higher than usual. Last year, 8 to 16-pound turkeys were roughly $1.15 per pound. Now, the price of an 8 to 16-pound turkey rings in at $1.99 per pound.
Despite the unprecedented incidence of bird flu, there will be enough turkeys to go around this year. While there isn't a reason to stress at the grocery store, you should be prepared to loosen your wallet and your belt this holiday season!
References: