From Spirits to Sanitizer: KOVAL Distillery Q&A
By C2ST Staff
As the COVID-19 epidemic rages on, many businesses around the world are struggling to stay afloat. But despite the enormous challenges inherent to operating in these trying times, some businesses are figuring out new ways to serve their communities. KOVAL Distillery is one such company. A Chicago-based distiller of whiskeys and gins since 2008, KOVAL is now a full-time hand sanitizer production facility. With the generous help of Chicagoans and people from around the world, KOVAL has been able to rapidly scale up production and distribution to police and fire departments, hospitals, and other organizations in need.
We spoke with KOVAL co-founder and president, Dr. Sonat Birnecker Hart about KOVAL's new normal and how folks can help the cause.
***
How did the idea to pivot from spirits to hand sanitizer come about?
It was clear from the start that there was a need, especially on the front lines of this health crisis. We began by wanting to make a few batches to donate to first responders, but the response was so overwhelming that we decided to shift all production to making sanitizer for the time being. We also launched a GoFundMe campaign to assist in our efforts to get as much out to those in need as possible. We have now donated over 2000 gallons, and are beginning to supply essential businesses as well.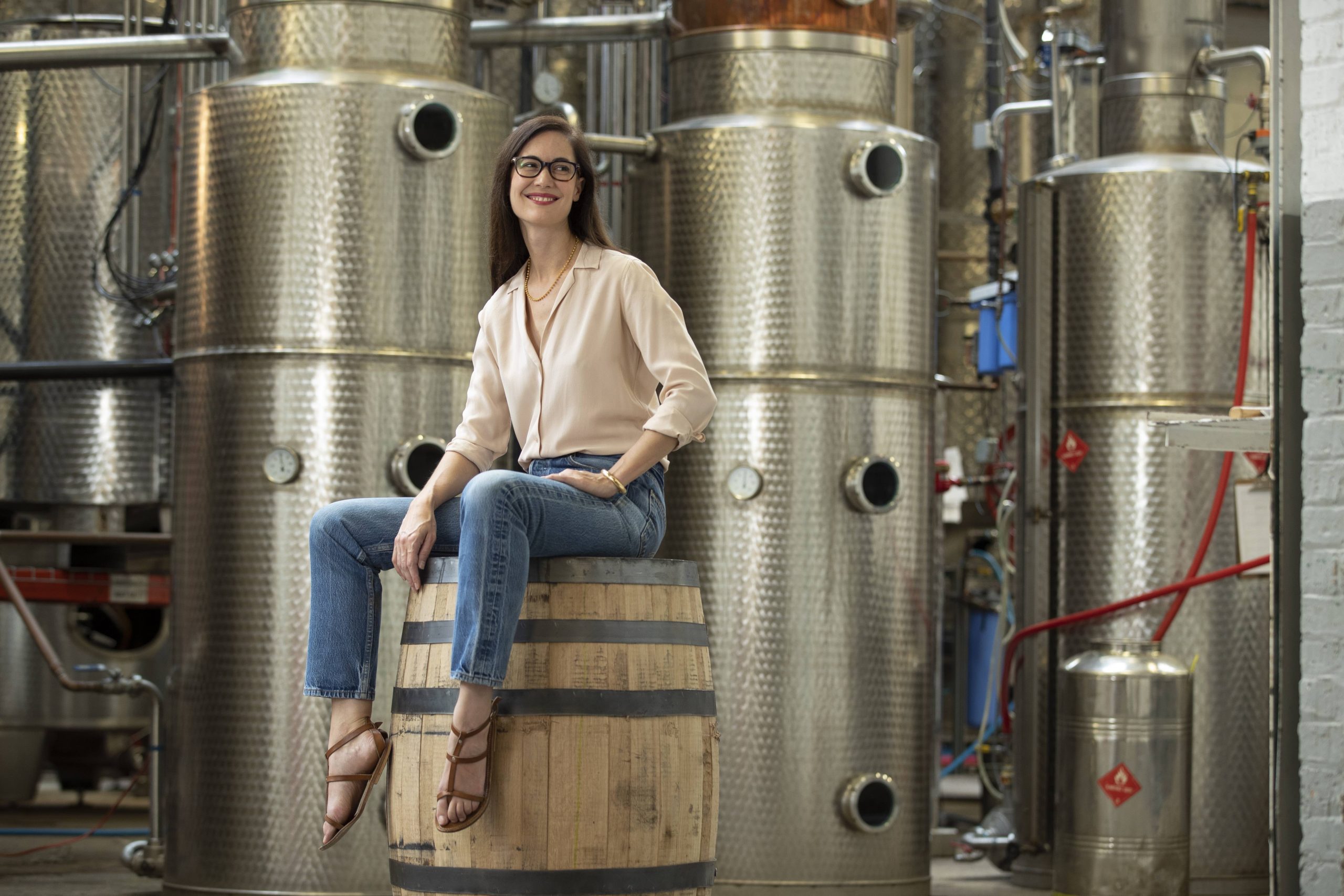 The process of converting your existing machinery/workflow to create hand sanitizer may seem like a no-brainer to folks who have knowledge of the distillation process, but can you give the rest of us an idea as to how that transition works? What needed to change about your technical process? What stayed the same?
Even in advance of it becoming legal, we had to think about what we needed to source and how we would go about everything as soon as we were given the go-ahead. We anticipated being allowed to move forward after speaking with the TTB and our trade organization DISCUS, but needed to wait until everything was official. As soon as we were allowed by the government, we completely shifted all aspects of our business, changing the way we do everything. At first, we thought we would just donate a few batches to first responders, but when the word got out, we received HUNDREDS of requests from so many on the front lines. 
We enlisted help from the community through a GoFundMe campaign that has received contributions from not only fellow Chicagoans but also from all over the world. So all of a sudden we were engaging in fundraising, as well as trying to adjust to all of the new realities. We had to change our website, code a new backend to our CRM to manage all of the sanitizer requests, figure out a protocol for categorizing requests and how we were going to get donations out. 
Not only were there a lot of administrative changes, but we also had to change how things were done in the factory: establish new protocols for working with a caustic chemical (hydrogen peroxide) as well as a new formula, implement new safety measures to maintain social distancing and incorporate wearing masks and gloves full-time. We also had to change the way we bottle to adjust for the different container sizes we're using for the hand sanitizer. On top of all of this, we also had to shift the roles of our team members and make sure they were trained on the new systems and protocols. We essentially became a totally different business.  It has been a complete shift in every way.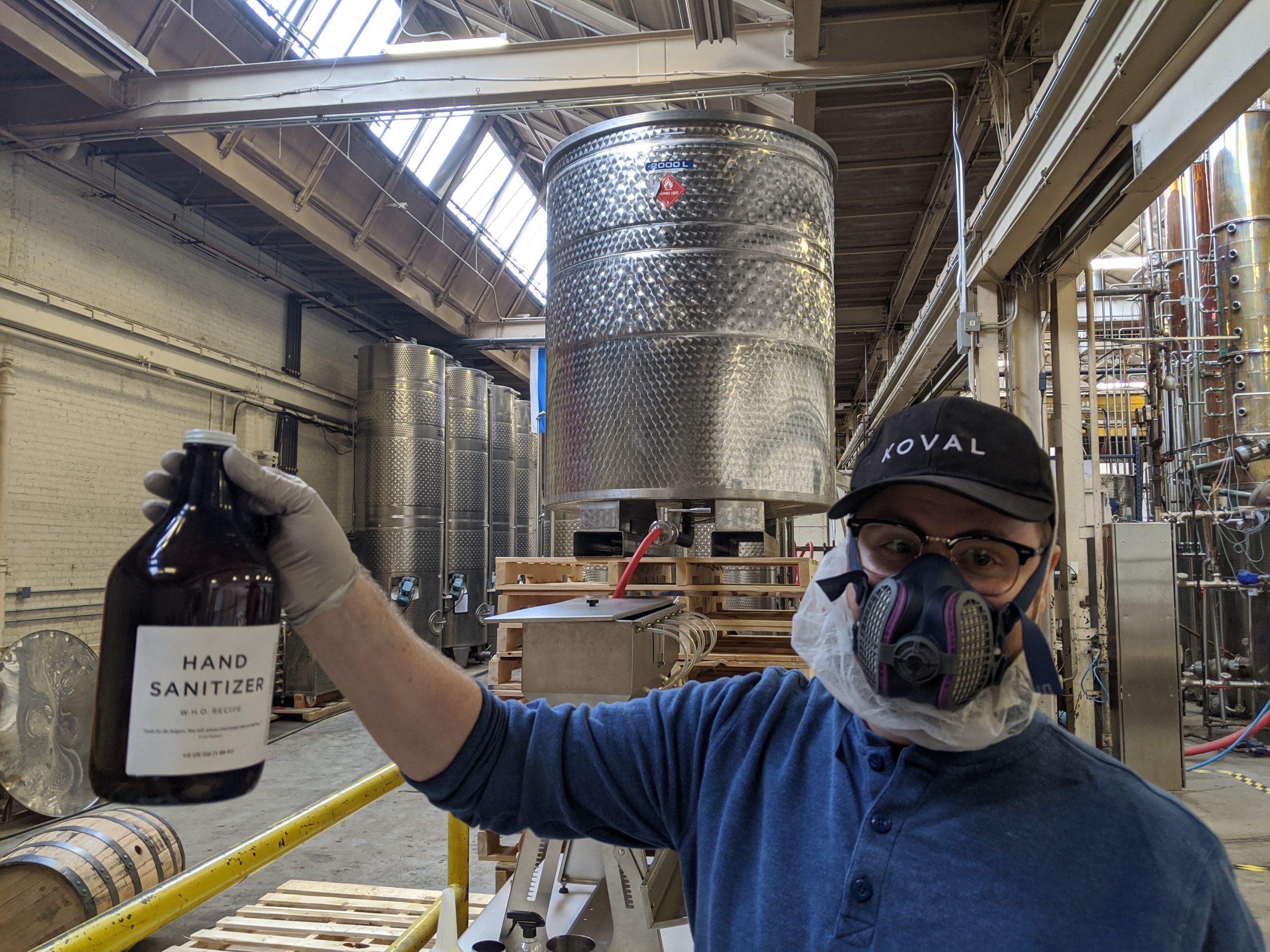 You've mentioned that there were some restrictions in place that would have initially blocked KOVAL from taking on the task at all. Can you go into detail on what those restrictions were and how you managed to eliminate or work around them?
There was a TTB regulation that distilleries who are allowed to manufacture for consumption are not allowed to manufacture for non-consumption. Like many distilleries around the country, we reached out to the TTB and DISCUS (our trade organization) to see if this could be changed. Given the extreme need and the pressure coming from the entire industry, the TTB changed its regulations and allowed all distilleries to manufacture hand sanitizer until the end of 2020.
Obviously, KOVAL has existing manufacturing and distribution capabilities, but what is different about this process compared to normal day-to-day operations? How are you getting the sanitizer where it needs to go? And who is it going to? How much sanitizer have you produced so far?
Normally we are only working with one "customer" per state (our distributor) in the US given the three tier system for alcohol. Since hand sanitizer does not fall under the three tier system, we all of a sudden had to manage hundreds, now thousands, of people looking to receive product, whether as a donation or to purchase. We needed to manage these requests (and all of our logistics) in an organized manner. This has been completely new, and we had to jump in at the deep end. 
We have donated over 2000 gallons of hand sanitizer since we started making it. In the first week, we donated hundreds of gallons to the CPD and the CFD, as well as hundreds of health institutions and hospitals around Chicago. We have also reached out to many Aldermen who have helped put us in touch with those in need. We have produced thousands of gallons at this point. In addition to all of the donations we are doing, we are also selling it to essential businesses, and also little by little the public.
How are KOVAL employees protecting themselves while this important work takes place?
Everyone is wearing masks and is engaging in social distancing. Our production team all work different shifts to ensure there are not too many people present at the same time. We are also making sure that we implement contactless pick up and delivery protocols. We have also made sure that our team has access to extra sick days, so that if they do not feel well for any reason, they can rest up.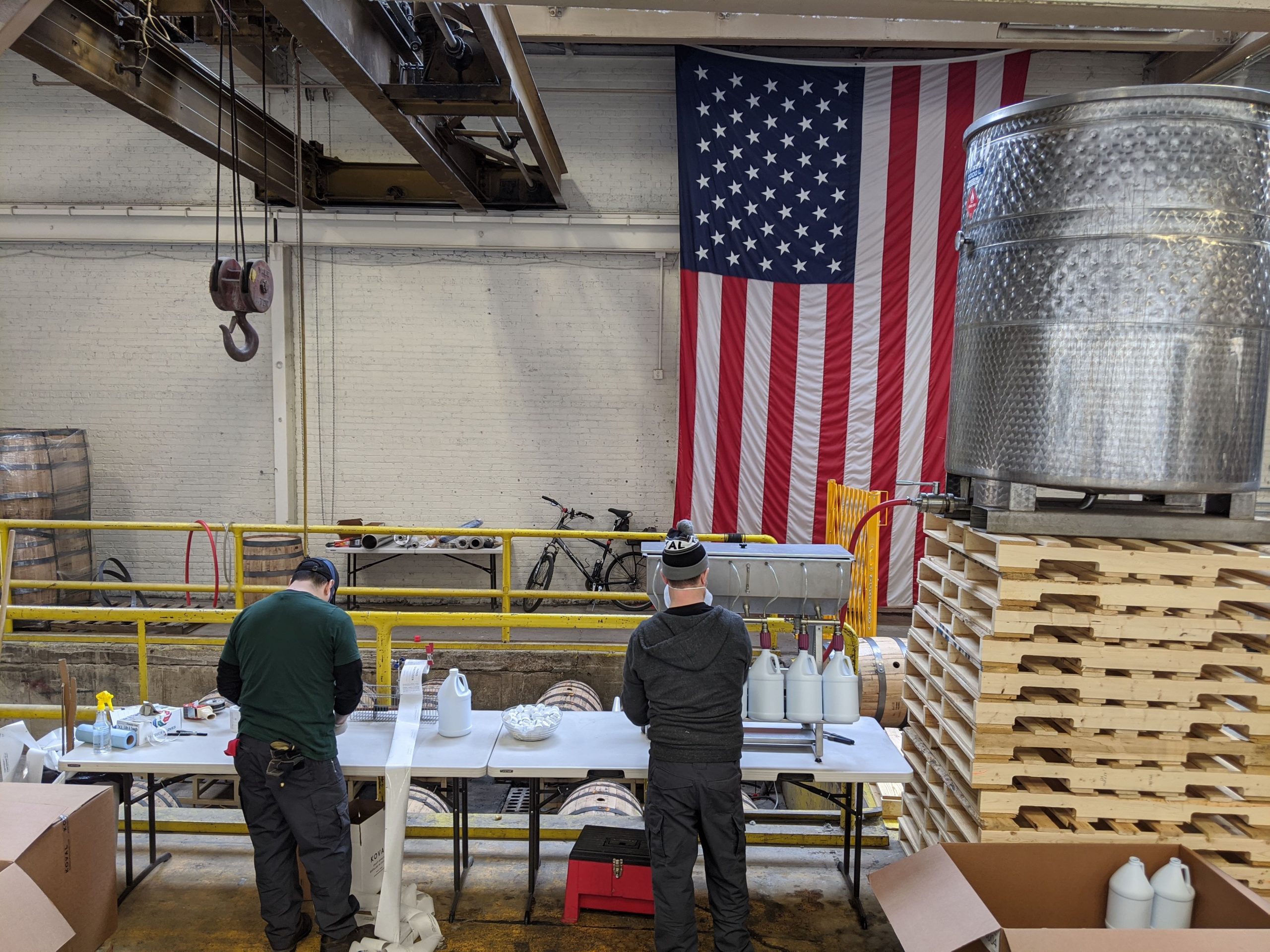 What partnerships have enabled you to do this work?
We could not have done this alone. Aside from our fabulous team, we have found partners everywhere, from the city Alderman, to many breweries and wineries who have donated their beer and wine for us to distill into hand sanitizer. We also have been helped with deliveries by Medspeed, Choose Chicago, Kone Elevator Co., ERC Midwest and others. Additionally, bottle companies have reached out to donate containers, and label companies like Master Tape & Label Printers and CelloTape have provided us with sanitizer labels free-of-charge. It is really a community effort in every sense.

It seems that there's been an outpouring of support from the Chicago community. How can Chicagoans continue to assist KOVAL in this endeavor?
Well, everyone can stay home to help flatten the curve. From home, one can log onto our website and donate to our GoFundMe campaign so that we can continue to donate hand sanitizer to keep our community as safe and healthy as possible!