By Summer Seligmann, C2ST Intern, Loyola University
Broadband transmits large amounts of data very quickly and makes things like remote learning, telemedicine, and other important online services possible. However, broadband access is not equal, and many communities suffer from not having high-speed internet access. Over the last decade, Roberto Gallardo, PhD., has researched how the availability of broadband can impact economic and community growth. 
Gallardo is the Director of Purdue's Center for Regional Development (PCRD). At PCRD, Gallardo works with public, private, and non-profit organizations to provide planning and technical assistance and promote regional growth. Additionally, the Office of Community and Rural Affairs recently announced that Gallardo will be the acting director for the Next Level Connections Broadband Programs. In this role, Gallardo will be assisting in the implementation of broadband programs across the state of Indiana.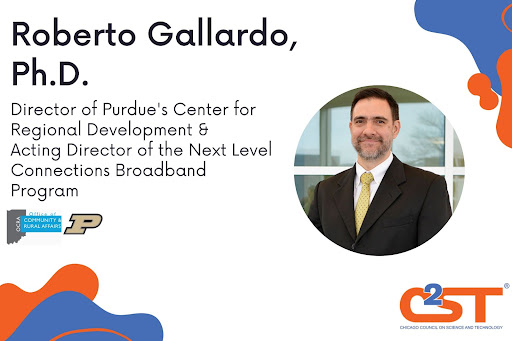 Continue reading "The Importance of Broadband: A Discussion with Roberto Gallardo, Ph.D."