Is the Obama Administration Owning Up to His Promise to Scientists?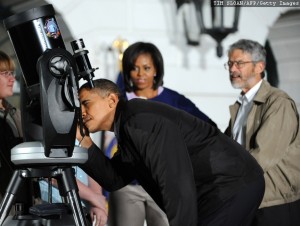 A week ago, President Obama came under fire from some who contend that the administration is not doing enough to bring a halt to the political interference of science and that Obama is continuing the Bush-era practice of the muffling of scientific speech.
The L.A. Times published a story last week, citing several examples where the Obama administration is falling short of its' mission to "restore science to its' rightful place."  Words President Obama used in his inauguration speech.  The article states that the following as examples:
Western U. S. – biologists pushed to ignore the effects of overgrazing on federal land
Alaska oil drilling – Bush-era oil/gas exploration decisions moved forward under Obama
Gulf oil spill – using potentially toxic chemical dispersants despite advice
Has the president's administration fallen back on its' promise to the scientific community?  Feelings are mixed.
In an interview for the Center for Inquiry's podcast "Point of Inquiry", Francesca Grifo, Sr. Scientist and Director of the Scientific Integrity Program for the Union of Concerned Scientists (UCS), says that the Obama administration has made good choices in scientific leadership.  She praised the appointments of Dr. John P. Holdren to the OSTP and Lisa Jackson to the EPA, Grifo is happy with the change that she is starting to see in the upper levels of some of the government's science agencies.
However, Grifo and the UCS are still getting calls of misconduct and interference by officials.  Though she admits that the level has dropped significantly with the change of administrations, Grifo wants to see more work done on addressing scientific integrity issues and wants it done in writing.
She says "…do we have a specific set of guidelines, a template, timelines, benchmarks to measure agency performance and create accountability for agency compliance?  Yes we do.  We don't have those things for scientific integrity."
Grifo says that without an executive order from the president's desk, situations will continue where officials try to skew science for political gain and the influence from the private sector increases.  She uses, as an example, the FDA's current policy of collecting fees from pharmaceutical companies to fund the drug approval process.
What do you think?  Is the present administration owning up to its' promise to the scientific community?  If you were analyzing their progress, what grade would you give?