The Gift of Science
'Tis the science season! Join us this snowy season and help us bring more science to Chicago in the new year. Support public STEM programs today by donating to C2ST.
---
The Chicago Council on Science and Technology (C2ST), has spent the past decade working towards its mission of a community engaged with science.
Pursuing that goal hasn't been simple, and has required the work of dedicated people from day one. C2ST's four founders laid the groundwork and in 2005, they came together with one simple idea:
They would create an organization to connect the public with science and the scientific community with itself.
A grant from NASA aimed at outreach led to a series of talks open to the public on energy and climate change, which was heavy in the public mind at the time and the NASA talks were so successful there was no reason not to create similar programs.
So, the Chicago Council on Science and Technology was born.
The council has grown to encompass much of the Chicago area and done its best to create a place where anyone from anywhere can come to learn.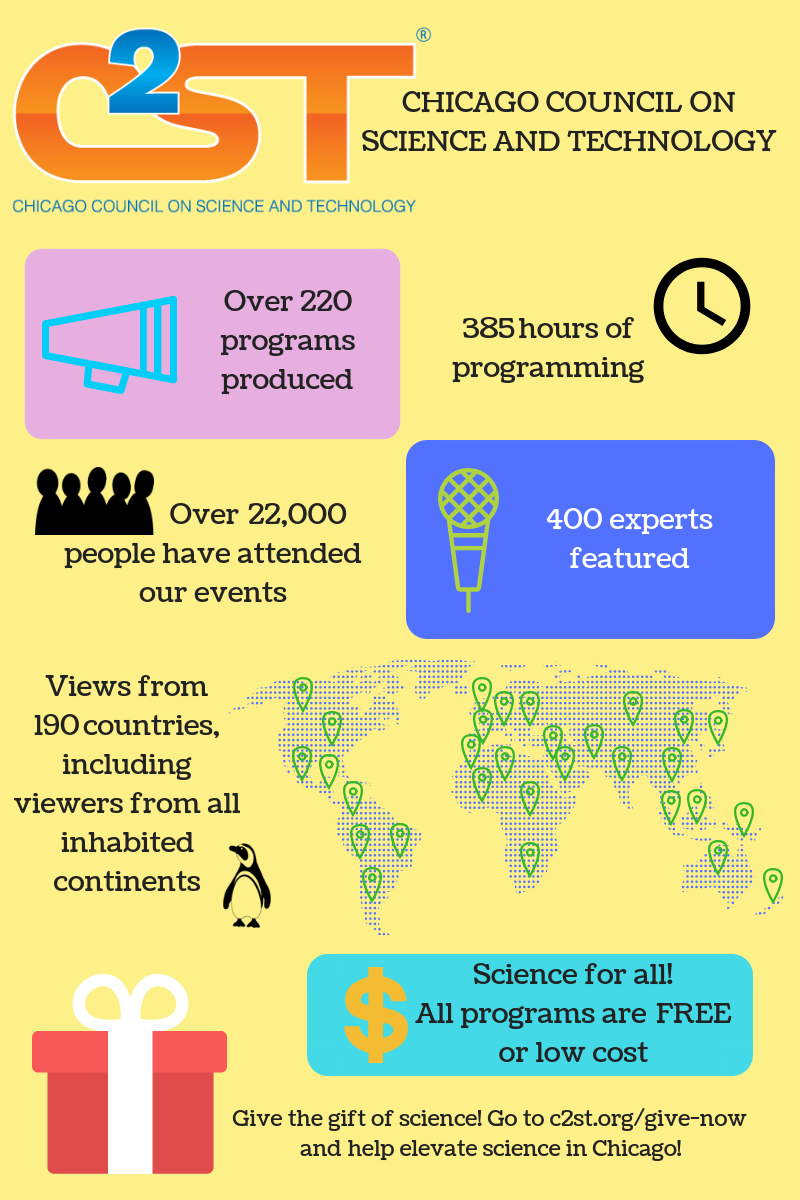 Goodbye 2018
C2ST has had a busy year! We hosted thirty-two programs that were attended or watched live by four-thousand people and our videos have been viewed by over twenty-thousand science enthusiasts, but we aren't slowing down!
Hello 2019
We hope to continue this success into the new year by raising $5,000 for new science programs and initiatives by December 31. Your gift will be MATCHED by a generous donor up to $5,000, meaning a $10 donation to C2ST becomes $20, $50 turns into $100, and $500 is doubled to $1,000. Thanks to you, we have already raised over $2,000!  Join us this snowy season and help us bring more science to Chicago in the new year.
Funds raised will go directly toward providing new programs and initiatives, keeping programs low-cost/free, and expanding programs into new Chicago neighborhoods.