Join us for C2ST's inaugural Inclusiveness in STEM event! Wine and food will be provided!
Inclusive practices and promoting diversity have been major challenges in STEM fields. However, people with disabilities are often left out of this important conversation. Complicating this issue are misunderstandings of what it means to be disabled and what barriers limit disabled access in STEM.
What strategies can be used to create a smoother transition for people with disabilities as they complete their education and transition into the workforce? What resources can people with disabilities use to help advocate for themselves? To help answer these questions, learn about the experiences of people with disabilities in STEM, and hear about current research join us for a panel discussion with advocates Dr. Maureen Dunne, Helen Rottier, and Dr. Susan Magasi.
With the aim of a more diverse future workforce, C2ST's Inclusiveness in STEM series focuses on the importance of allies, self-esteem, recognition, and representation to help minorities overcome barriers that may prevent them from entering STEM careers or achieving longer and greater success in these fields. These discussions will advocate for a more inclusive and diverse workforce and will highlight the importance of perception as it relates to achievement in STEM fields.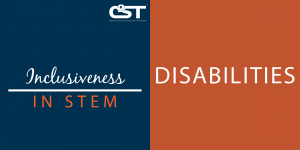 Event Details
Friday, December 6th, 2019, 5:30 pm to 7:00 pm, 1871, 222 W Merchandise Mart Plaza, #1212, Chicago, IL 60654.
This event is FREE to attend. Wine and food will be provided.
For easy access, guests should enter through the Orleans entrance on the west side of the Merchandise Mart and take those elevators to the 12th floor. Additionally, any elevators in the Merchandise Mart that access the 12th floor will also work.
Parking and Transportation
Self-park at the 210 N. Wells lot and validate your ticket at 1871 for discounted rates.
$8.00 – Monday – Friday: enter between 3:00pm – 11:59pm, out by 8:00am, $14.00 – For up to 12 hours of parking anytime
Entering the garage:
Entrances are located on Wells Street and Post Place (between Franklin Street and Wells Street).
Enter 210 N. Wells Self-Park and pull a "timed" ticket to lift the gate and park your vehicle.
Take your parking ticket with you for validation at 1871 Reception.
For any questions regarding parking at 210 N. Wells Self-Park, please contact info@210nwells.com or
(312) 263-1535.
1871 is easily accessible via the Merchandise Mart CTA Brown and Purple Line stop. For detailed travel information visit www.transitchicago.com or call the Travel Information Center at 1-888-YOUR-CTA or 1-888-CTA-TTY1 (TTY).
Notice: As a guest of Chicago Council on Science and Technology (C2ST), you agree to be photographed, videotaped, or filmed and grant C2ST permission to put the finished footage/photography to any uses that it may deem proper including marketing, advertising (print, radio, and television) and PR-related activities.
We are dedicated to providing a professional and inclusive environment for everyone, regardless of gender, gender identity and expression, sexual orientation, disability, physical appearance, body size, race, age, or religion. Please be respectful of diversity in individuals and in cultures at our events.